---
#RUDESAGAINSTCOVID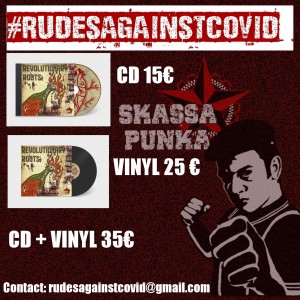 Questa situazione tocca tutti noi, tutta l'umanità. In questi tempi duri ognuno è tenuto a fare la sua parte. Gli Skassapunka hanno sempre fatto loro uno slogan: "Restiamo Umani". Mai come ora è tempo di esserlo veramente. Per questo chiediamo una mano a voi. Abbiamo deciso di lanciare la campagna #rudesagainstcovid : per ogni "Revolutionary Roots" acquistato una parte verrà devoluta all'ospedale di Rho (MI) e Garbagnate (MI), mai come ora in difficoltà, e che hanno bisogno di tutto il supporto possibile, che anche noi, pur nel nostro piccolo, possiamo dare. Insieme a voi.
————————————————————————————————————–
This situation affects all of us, all of humanity. In these hard times everyone is obliged to do his part. Skassapunka have always a slogan: "Stay Human". Now more than ever is the time to be really so. That's why we ask for your help.
We decided to launch the campaign #rudesagainstcovid : for every "Revolutionary Roots" copy purchased, a part will be donated to the Hospitals of Rho and Garbagnate, which need all the support we can give them.
PRICE LIST (shipping cost excluded):
CD – 15€ 
VINYL – 25€
BUNDLE CD+VINYL – 35€
ORDER YOUR COPY HERE ——> rudesagainstcovid@gmail.com
PAYPAL HERE ——> paypal.me/rudesagainstcovid